Google and some other providers are claiming they don't supply any information to the NSA, however the (April 2013) 41 slide NSA presentation "for new spies" that's been leaked to the Guardian and the Washington Post proves otherwise. Here's a couple of slides showing what the PRISM system offers to Government snoopers.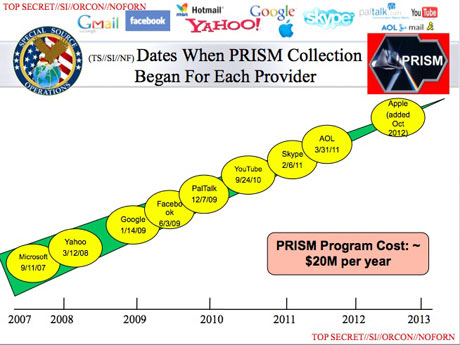 http://boingboing.net/2013/06/07/leaked ... ims-t.html
" onclick="window.open(this.href);return false;
The Guardian doesn't mince words.
The National Security Agency has obtained direct access to the systems of Google, Facebook, Apple and other US internet giants, according to a top secret document obtained by the Guardian.

The NSA access is part of a previously undisclosed program called Prism, which allows officials to collect material including search history, the content of emails, file transfers and live chats, the document says.

The Guardian has verified the authenticity of the document, a 41-slide PowerPoint presentation – classified as top secret with no distribution to foreign allies – which was apparently used to train intelligence operatives on the capabilities of the program. The document claims "collection directly from the servers" of major US service providers.
Disclosure of the Prism program follows a leak to the Guardian on Wednesday of a top-secret court order compelling telecoms provider Verizon to turn over the telephone records of millions of US customers.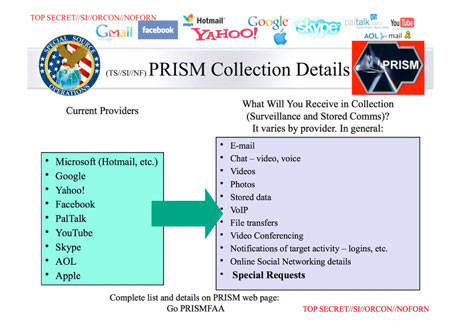 The act also gives the director of national intelligence and the attorney general power to permit obtaining intelligence information, and indemnifies internet companies against any actions arising as a result of co-operating with authorities' requests.

In short, where previously the NSA needed individual authorisations, and confirmation that all parties were outside the USA, they now need only reasonable suspicion that one of the parties was outside the country at the time of the records were collected by the NSA.
Jameel Jaffer, director of the ACLU's Center for Democracy, that it was astonishing the NSA would even ask technology companies to grant direct access to user data.

"It's shocking enough just that the NSA is asking companies to do this," he said. "The NSA is part of the military. The military has been granted unprecedented access to civilian communications.

"This is unprecedented militarisation of domestic communications infrastructure. That's profoundly troubling to anyone who is concerned about that separation."
http://www.guardian.co.uk/world/2013/ju ... s-nsa-data
" onclick="window.open(this.href);return false;
Big brother is not only alive and well... he's probably been monitoring
your
communications for years.